American Leaders
Sign Up
Blood-Horse Daily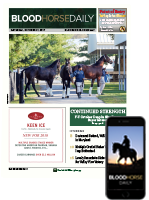 Free and Brought to you Daily
Get the latest insider news, analysis, entries and results on your phone or sent to your email!
Social
Subscriptions
Products & Services
Contact
Legal
Copyright © 2016 Blood-Horse LLC. Click here to learn more.
North American Sire Lists
State & Regional Sire Lists
I'm a Chatterbox Wins Second Grade I
Plus news, analysis, entries, results & replays
. All rights reserved internationally.
Leaders
HorseNyquist$3,505,600View Full List
BreederWinStar Farm, LLC$4,396,727View Full List
Owner Reddam Racing LLC$5,285,392View Full List
TrainerTodd A. Pletcher$11,826,727View Full List
JockeyJavier Castellano$11,762,704View Full List
Racetracks
View All Racetrack Profiles
Newsletters & Alerts
In Today's Edition
Sign up for our free weekly email newsletters and alerts, filled with race previews and results, news of the week, or breaking news.
Racing LinksSpecial Offer

Get 8 FREE issues of The Blood-Horse!
Don't miss a minute of the action…with 8 FREE issues of The Blood-Horse. And if you like them, you can continue with a full year of issues and get the next edition of the Stallion Register, plus complete coverage of the Kentucky Derby and Breeders' Cup World Championships.
Search International Race Results
North American Sire Lists
State & Regional Sire Lists
Sale Averages
Worldwide Leaders
N